Price Guide
So how much is it to clean YOUR windows?
We get lots of messages asking how much to clean an unspecified number of windows with no address.
For a realistic quote, we need much more detail! Often we'll need to come out and check first.
First, what's your property size and type - Terrace, Flat, Semi, or Detached?
What's your area/suburb and Postcode? It will cost a bit more if outside Burton on Trent
How many windows d'you need cleaning? Any large/bay windows or patio doors?
If you want a conservatory cleaning, does it include the roof?
Cleaning conservatory roofs may splash a neighbour's windows which means paying to clean them too
How long roughly has it been since they were cleaned?
First cleans can cost 30-50% more if the windows haven't been done in over 9 months/years.
Pricing depends on how long the job will take and the amount of pure water required.
We can only clean painted wooden or metal framed windows in good condition and not rusting or flaky.
Outside taps help soak dirt off conservatory roofs & fascias, before using purified water that costs more.
Any awkward access windows requiring a ladder or climbing onto a flat/pitched roof, will cost more.
Some staining might never go away, as cleaning cannot remove organic or UV discolouring of upvc frames.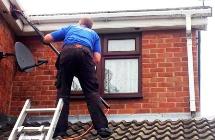 E-mail any queries or call for a free quote:
To estimate price add £1 per standard upvc window containing 1-4 panes & NOT per pane of glass. It's £2 for each large bay window or patio doors. Awkward access windows or skylights can cost £2-£3 each for time required to climb up/over flat roofs etc. For conservatory cleans without the roof, just count each pane from base to roof including openers as £1 each. Conservatory roofs are priced on size and severity of dirt/staining, so anything from £10 - £50. We clean any standard UPVC front door included with your windows free of charge!
Rough price guide for various jobs:
A 5 (standard sized) window flat with 1 door = £5
A 7 window terrace with 1 bay window = £8
A 8 window semi-detached house inc 1 bay window & patio doors = £11
A detached house with 14 windows including 2 bays = £16
A large semi with 8 windows & conservatory containing 10 glass panes with 4 openers = £18
To clean/clear inside upvc guttering per 10 ft length INSIDES ONLY = £20
To clean the outsides only of UPVC guttering per 10ft length = £15
Soffits & Fascia cleaning per sq 5ft or 10ft length = £15-25 depending on severity of staining
Solar Panels = £2.50 - £5 each depending on the quantity and ease of access
We save you hours of hard labour, leaning out of windows or struggling to carry & climb ladders. So relax knowing the job will be done to the highest standard in far less time; leaving your property looking great.
So leave the hard work to us and get in touch; knowing we're FULLY INSURED.
Call 07967 967959 or email any questions and arrange your free quotation.
*Email your query here*
* We clean the whole window including UPVC frames and sills, not just the glass! *
* Reliable Service * Payment Options * Residential & Commercial * Windows Soffits & Fascias * Conservatories *